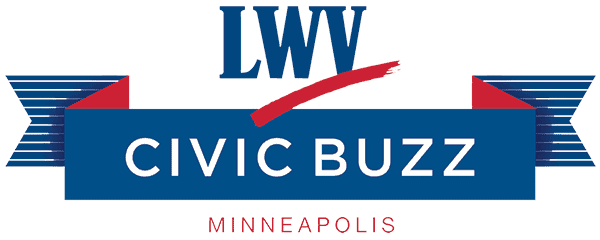 PUBLIC Speaker & Discussion Series
Interested in discussing local issues? Learning more city government actions? Join us for our community speaker series now via Zoom. A discussion with LWVMpls means all voices are heard. Our goal: everyone leaves the discussion with a broader understanding of the issues.
CIVIC BUZZ: Minneapolis 2040 Plan, a Focus on Housing, Feb 2
In case you missed it, here is the video of our Civic Buzz on the topic of the Minneapolis 2040 Plan. We presented a 2040 Plan overview, with an in-depth focus on housing. Our speakers were Sarah Berke, Sam Rockwell and Jamar Hardy.
WHEN: Tuesday, February 2, 2021, 7:00 – 8:30 PM
About the Minneapolis 2040 Plan
The 2040 Plan's overarching themes are equity and sustainability. Among many specific issues it addresses are housing, climate change, public spaces and regional and local development. Future Civic Buzz events may address these and other issues the plan covers.
Our city's 20-year plan can still be guided by residents, but only if we all get involved. Therefore, Civic Buzz will also speak to ways to take action in order to influence and guide the 2040 Plan's evolution over the next 20 years.
Jamar is managing broker of Edina Realty's office at 53rd Street and Lyndale Avenue in Minneapolis. In his nearly two decades in real estate, he has emerged as a leading voice in the industry, particularly in the area of expanding opportunities for historically underserved communities in housing, real estate careers and beyond. Jamar chairs Edina Realty's Diversity and Inclusion team.
Jamar is also an industry leader, having served on the Minneapolis Area Association of REALTORS® Board of Directors and other positions including the National Association of Realtors® Diversity Committee. He is active in his community and has served for nearly a decade on the Board of Directors of The Link Minnesota, which provides support to at-risk youth in the Twin Cities.
Sam Rockwell
Sam is executive director of Move Minnesota. He also serves as president of the Minneapolis Planning Commission and teaches in the UMN Urban Studies program. Sam's transportation and land use background spans organizing and policy, and includes work with the U of M Foundation Real Estate Advisors, BCBS Center for Prevention, the Environmental Tax Policy Institute, and numerous other organizations. He holds a law degree from Vermont Law School.
Sam will discuss the structure of Minneapolis's 2040 Plan, what the plan does for housing and related issues, and how community members can get involved.
Sarah Berke
Sarah Berke is a program officer at the Family Housing Fund, focused on strategies to build and preserve affordable housing across region. In this role, she leads systems change initiatives to increase t
he supply of all types of affordable housing in the Twin Cities and is the primary contact for FHFund's multifamily loan portfolio. Sarah has more than fifteen years of experience in affordable housing, social enterprise, and community development finance, including as director of strategic partnerships at the Minnesota Housing Partnership and director of research and development for the national Housing Partnership Network's Innovation Lab. She holds a Master of Public Affairs from the Humphrey School of Public Affairs at the University of Minnesota, a bachelor of arts in Russian and political science from St. Olaf College, and is an alumna of the U.S. Fulbright Program in Russia. Sarah serves on the board of Northcountry Cooperative Foundation, which supports resident ownership in manufactured home communities in the Upper Midwest.