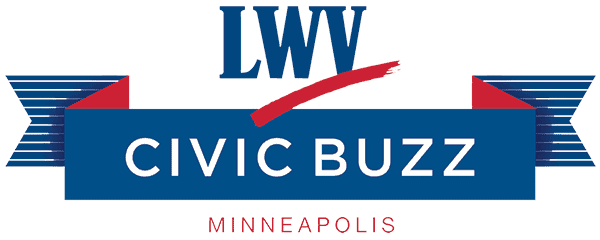 PUBLIC Speaker & Discussion Series
Interested in discussing local issues? Learning more city government actions? Join us for our community speaker series now via Zoom. A discussion with LWVMpls means all voices are heard. Our goal: everyone leaves the discussion with a broader understanding of the issues.
March Civic Buzz: Minneapolis Public Schools: Challenges and Opportunities
**This event has passed. Watch the replay by clicking HERE!
Also please note:For those of you watching the video of our Civic Buzz, Chair Sharon El-Amin is willing to accept questions by email or phone. You can reach her at [email protected] or 612.986.3281
MPS Board of Education Chair to speak at March Civic Buzz
Chair Sharon El-Amin, the Chair of the Minneapolis Public Schools Board of Education, will be our Civic Buzz speaker in March. Please note that the Civic Buzz will be on Wednesday, March 8 at 7:00 p.m., rather than on Tuesday. Chair El-Amin will update us on what's happening in the school district with a particular emphasis on the financial issues and achievement gap issues. Please join us!
Sharon El-Amin represents District 2 -- the Northside Minneapolis area. Sharon has lived, worked and worshipped in North Minneapolis for over two decades. She brings over 15 years of business experience managing budgets, making tough decisions, hiring, and working with staff to service the needs of the community. Sharon is the founder of P.A.R.O.S (Parents Alliance Reclaiming Our Schools) founded in 2019. PAROS was started and continues to work with parents to elevate the voices, inform the parents and increase community connectedness within North Minneapolis and MPS.
Sharon has 3 children, two of which have graduated from MPS, and has been married for 28 years. Sharon has one grandson that currently attends a MPS middle school and continues to be actively involved in the fight for quality education for all children. Sharon brings ACTION and urgency for students, parents, educators and the community to rebuild trust and working relationships with families and education by working together!