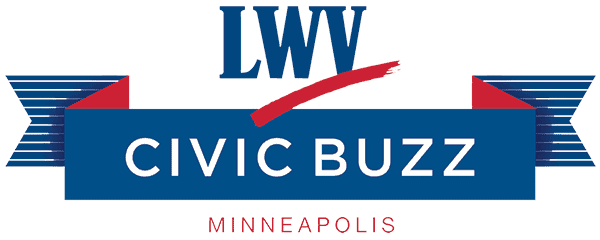 PUBLIC Speaker & Discussion Series
Interested in discussing local issues? Learning more city government actions? Join us for our community speaker series now via Zoom. A discussion with LWVMpls means all voices are heard. Our goal: everyone leaves the discussion with a broader understanding of the issues.
Civic Buzz: What you need to know about redistricting
We had a very informative discussion on May 18 about redistricting with our two guest speakers Andrea Rubenstein and Nick Harper. In case you were unable to attend, here is the recording of this discussion.
Nick Harper, Civic Engagement Director for LWVMN, spoke about "People Powered Fair Maps." He addressed some of our current questions, such as:
What is redistricting?
What is gerrymandering?
What is the process going forward?
Andrea Rubenstein, Charter Commissioner since 2006, shared with us the major role that the Minneapolis Charter Commission plays in redistricting.
Watch now: vimeo.com/552914389
BIOS
Andrea Rubenstein
As a member of the Charter Commission, Andrea co-chairs the Public Safety Work Group and of the Redistricting Rules Work Group. Andrea has a B.A. in English literature from Wheaton College and a J.D. degree from the University of Minnesota Law School. After engaging in a general litigation practice, she began practicing plaintiff employment law, continuing until her retirement in 2014. Andrea has served on numerous boards and community organizations including as past president of Jewish Community Action, the Minnesota Women's Fund, Minneapolis Legal Aid Society, and the Minnesota Lawyers' Trust Account Board.
Nick Harper
During the summer and fall, Nick helps local LWVs provide voter services in collaboration with community partners. During the winter and spring, he serves as the staff lead for state advocacy. His policy interests cover all aspects of political activity and civic engagement, including legislative process, money in politics, voting rights, redistricting, and other election law. He holds a B.A. in political science from Gustavus Adolphus College and a J.D. with public service honors from the University of Iowa College of Law. He is also a licensed attorney in Minnesota.