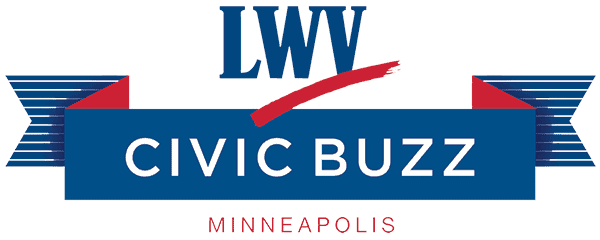 PUBLIC Speaker & Discussion Series
Interested in discussing local issues? Learning more city government actions? Join us for our community speaker series now via Zoom. A discussion with LWVMpls means all voices are heard. Our goal: everyone leaves the discussion with a broader understanding of the issues.
Civic Buzz: People's Climate & Equity Plan
View the Slides by clicking Here!
Title: People's Climate & Equity Plan
Date: Tuesday, November 1
Time: 7:00 p.m.
November's Civic Buzz will feature leaders of the movement to stop climate change and reduce inequality for a presentation and discussion. Theresa "Tee" McClenty, MN350 Executive Director, and Ulla Nilsen, MN350 Green New Deal Team Organizer, will present on the People's Climate & Equity Plan: Confronting the climate crisis, creating jobs, and reducing inequality.
T
ee McClenty joined MN350 as Executive Director in 2022. Because the impacts of climate change are experienced much differently by middle-income families than they are for poor, underprivileged, and BIPOC families, Tee has dedicated her life to ensuring that all communities have access to ALL the resources available to them.
Ulla Nilsen has dedicated much of her life to the idea that a better world is possible. Since she became a mother and learned of climate change in 2008, Ulla has worked passionately to help solve the climate puzzle and uncover the connections between racial, economic, and climate justice. As MN350's Green New Deal Team Organizer, Ulla is working to ensure that the rollout and benefits of a green economy are accessible to all communities.