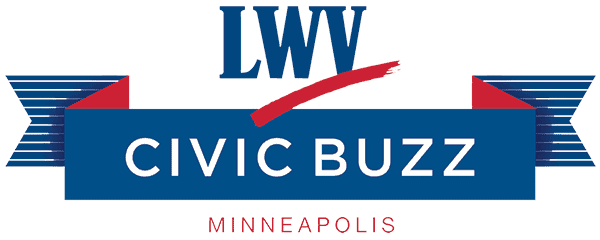 PUBLIC Speaker & Discussion Series
Interested in discussing local issues? Learning more city government actions? Join us for our community speaker series now via Zoom. A discussion with LWVMpls means all voices are heard. Our goal: everyone leaves the discussion with a broader understanding of the issues.
Civic Buzz: Homelessness and Helping People Without Homes Vote
Presenters: Danielle Werder and Ginny Gelms
Despite community efforts, during the on-going COVID-19 pandemic we've seen the numbers of people without homes grow and become more visible to their neighbors in our parks and open spaces. Join us to hear the latest on community efforts to help people without homes — both finding them housing and helping them vote — presented by Hennepin County employees Danielle Werder and Ginny Gelms. Civic Buzz is open to the public, so invite your friends and neighbors.
Danielle Werder serves as Area Manager of the Hennepin County Office to End Homelessness. She started at Hennepin County six years ago as the systems planner for the single adult homeless response system. Danielle led the efforts to end chronic homelessness as well as the Hotels to Housing project—a project which has resulted in 370 people being housed from the high-risk protective hotel sites established as a response to COVID-19.
Ginny Gelms has served as Hennepin County Elections Manager since 2013. She previously served as City of Minneapolis Interim Elections Director and in the Johnson County, Iowa elections division. She holds a graduate certificate in Election Administration from the University of Minnesota Humphrey School of Public Affairs