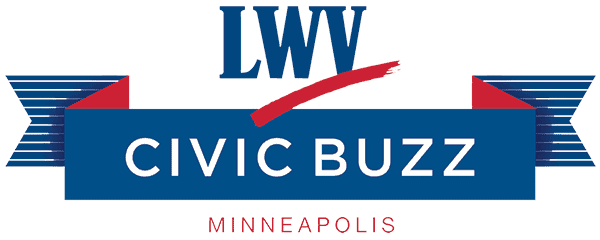 PUBLIC Speaker & Discussion Series
Interested in discussing local issues? Learning more city government actions? Join us for our community speaker series now via Zoom. A discussion with LWVMpls means all voices are heard. Our goal: everyone leaves the discussion with a broader understanding of the issues.
April Civic Buzz: Climate Change and Sustainability
THIS EVENT HAS PASSED
TOPIC: Climate Change and Sustainability
PRESENTER: Kim Havey, City of Minneapolis Director of Sustainability
DATE: Tuesday, April 5, 2022
TIME: 7:00 PM
Watch the Replay on YoutTube HERE!
Kim Havey will discuss the City's climate change and sustainability efforts and what League members can do to help. Kim is responsible for the development of policy and programs to support the city's Climate Action Plan, Greenhouse Gas (GHG) reduction goals and elevate environmental justice programs and policies to increase health and wealth in low-income communities of color. In March, 2021, Kim was appointed to serve on the first-ever White House Environmental Justice Advisory Committee (WHEJAC).